Sound Familiar?
"Common People," "Disco 2000," "This Is Hardcore"
Who Are They?
The Britpop band that rode the waves made by Blur and Oasis, but was--in fact--the most original.
When you think of the Britpop explosion of the mid-'90s, what are the first bands that come to mind? Oasis? Blur? Maybe even Suede?
Among all these one-name bands from across the pond, there was Pulp, making music way before the Gallagher brothers exchanged their first "fuck yous." Formed in 1978, Pulp's musical style mirrored the Sheffield sound (electronic New Wave, like The Human League). Their first album, It, was released in 1983 and largely consisted of romantic pop songs influenced by Leonard Cohen.
The album was a commercial failure, leading founder and vocalist Jarvis Cocker to throw a hissy fit and threaten to break up the band. After a handful of lineup changes, Pulp was signed to Fire Records in 1985. (Fun fact: Soon after signing to the label, Jarvis fell out of a window while trying to impress a girl with his Spider-Man impersonation. He had to use a wheelchair for a while, which he proudly performed in onstage.)
The next release (1987's Freaks) failed to meet Jarvis' standards, but bassist Steve Mackey, who joined the band in 1989, introduced Jarvis to the magical world of house music, pulling Pulp into a more dance-oriented direction.
The band left Fire Records and signed to Island Records, which proved to be a good move. Once His 'n' Hers dropped in 1994, Jarvis finally began experiencing the success he has so desperately craved since Day 1. Pulp ultimately had their first Top 40 hit with "Do You Remember the First Time?," an ode to popping the cherry. (Fun fact: A short film was produced to promote the track. It consisted of a series of interviews with fans and celebrities describing their "first times.")
Pulp's success was due in part to the massive media interest in Britpop and the moderately huge single "Common People" from 1995's magnum opus, Different Class. The album was pretty dark compared to (What's the Story) Morning Glory? or even Parklife. Jarvis' lyrics were highly sexualized, and the single "Sorted for E's and Wizz" became a lightning rod for "pro-drugs" accusations.
Despite all the controversy (or maybe because of it), Different Class garnered immense critical praise and catapulted Pulp into their own little spotlight (I can't say the spotlight because they were kind of overshadowed by all the other Britpop bands). (And another fun fact: At the 1996 BRIT Awards, Jarvis invaded the stage during Michael Jackson's performance of "Earth Song" and "wiggled his backside" at the audience. Michael was pissed and Jarvis ended up spending the night in Kensington Police Station charged with actual bodily harm and assaulting the child performers. The charges were later dropped.)
After the circus that was the Different Class era, the band began to disintegrate. Jarvis developed a cocaine addiction and key member Russell Senior ditched the group. This Is Hardcore, released in 1998, mirrored the band's real-life struggles, touching on even darker subject matter than its predecessor. (You don't have a dirty mind for thinking the title track is a reference to porn. It really is.)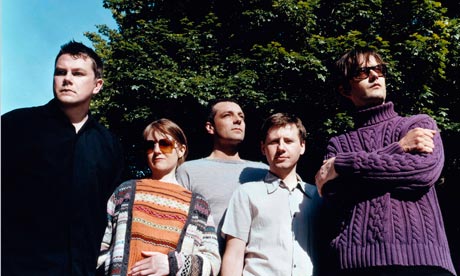 Where Are They Now?
Reemerging from a hiatus for a new tour!
Pulp released one last album (2001's We Love Life) before calling it quits. To no one's surprise, Jarvis became the most successful member after the breakup. He's released a couple solo albums and the BBC is basically in love with him.
Jarvis also ventured into acting, lending his voice to Wes Anderson's Fantastic Mr. Fox (as Petey) and playing the lead singer of The Weird Sisters in Harry Potter and the Goblet of Fire. How can you not love this man?
Bassist Steve Mackey has also been busy. He's produced tracks for M.I.A. and Florence + The Machine.
Pulp reunited in 2010, playing various festivals in the UK and touring Europe and Australia in 2011. They co-headlined the Reading Festival and the Leeds Festival with The Strokes in August 2011.
But Why Pulp?
Though they've been back together and touring the UK for a couple years now, Pulp is making an appearance at this year's Coachella Festival, the first show in the US in a decade.
What Does Sam Think?
Out of all the musical movements of the '90s, Britpop has always seemed the stalest to me. I like Blur, but I have a love-hate relationship with Oasis. (My love for Radiohead is irrelevant because they really had nothing to do with Britpop).
But Pulp kind of changed my mind. They played disco-influenced pop rock songs with ridiculously sexualized subject matter. My confession: I love disco. And sexy songs. I love sexy disco songs. No shame.
Pulp can definitely hold its own with a sound like that. Different Class is such a fun record, even if it does take a dark turn. Listening to "Common People" just brings a smile to my face. It's like the disco version of "Wonderwall." It makes you want to grab that boy/girl of your dreams and dance the night away (and maybe grind a little when no one is watching).
Their darker material (anything from This Is Hardcore) isn't exactly party music, but it's got a lot of soul. Jarvis' demons drive the record, but Pulp's signature sound isn't lost at all. The darkness actually makes things more interesting. And writing a song about the porn industry also helps.
If you've never listened to Pulp before, you're definitely missing out. Even if the mere mention of disco makes you cringe, give this band a chance. You may find yourself breaking out the platforms and spandex and having your own little "disco inferno."
-- Sam Boyer, reporting from the '90s.