Sound Familiar?
"Song 2," "Girls & Boys," "Coffee & TV"
Who Are They?
Britpop titans who gave Oasis a run for their money.
This is a band I've only mentioned in passing (see my entry on Pulp), but now you loyal readers get to read the full story.
When childhood friends Damon Albarn and Graham Coxon met Alex James in 1988, they knew they had to start a band. The group (joined by drummer Dave Rowntree at a later date) called themselves Seymour, named after J.D. Salinger's Seymour: An Introduction. Food Records' big boss David Balfe hated the name, so the band decided to change it to Blur.
While touring the UK in 1990, Blur released the debut single "She's So High," which gained them some attention from UK music journalists. Their subsequent single, "There's No Other Way," became a smash hit and Blur quickly became pop stars.
Unfortunately, the debut album Leisure, released a year after the handful of singles, received mixed reviews. Blur was then faced with the challenge of proving their worth to the music industry.
Then they realized they were £60,000 (roughly $94,000) in debt. Bummer.
Blur toured the US in 1992 in an attempt to recoup their financial losses. When the boys felt comfortable enough to release a new single ("Popscene"), no one was really interested. As a result, plans to record a second album were pushed back.
During the American tour, Damon and company became increasingly unhappy and upset by the success of rival group Suede. After performing poorly on the same bill as Suede at a 1992 show, Blur was in danger of being dropped by their record label.
By this time in their career, our British heroes had undergone an image shift intended to celebrate their British heritage. The band's new manifesto was basically: "We're not American, so we shouldn't try to sound like an American band." (Remember that grunge was the big thing at this time, so the best way for a new band to compete with something that powerful was to try a new angle.)
Blur's metamorphosis into Britpop royalty began with 1993's Modern Life Is Rubbish and peaked with 1994's Parklife.
Modern Life Is Rubbish didn't chart in the US, but Americans went nuts for Parklife. The first single, "Girls & Boys," peaked at #5 on the UK singles chart and #4 on the US Modern Rock chart. Believe it or not, this is the band's highest charting single to date, not "Song 2."
Parklife became the band's crowning achievement, earning them four awards at the 1995 BRIT Awards. The follow-up, 1995's The Great Escape, was released around the same time as Oasis' (What's the Story) Morning Glory?, and ultimately sparked what would become "The Battle of Britpop." (No, seriously. This is a real thing. I'm not making it up for comic effect.)
"The Battle of Britpop" referred to the chart battle between Blur and Oasis. Spurred on by the media, both bands were engaged in what NME called the "British Heavyweight Championship" (I wish I were making this up) when Blur's "Country House" and Oasis' "Roll With It" were released on the same day.
Blur won the battle ("Country House" sold more copies than "Roll With It"), but lost the war. Morning Glory sold way more copies than The Great Escape and Oasis ended up becoming infinitely more successful (at least commercially) than Blur.
Tensions mounted after the ordeal with Oasis and the band became bitter about the whole Britpop scene. Graham Coxon grew increasingly more annoyed with Damon's control over Blur's musical direction and made it a point to listen to noisy American alternative rock bands.
(I can imagine that playing out like this):
Damon: "So guys, we're British and –"
Graham: "FUCK YOU ALBARN. WE'RE LISTENING TO PAVEMENT."
The result was the deliciously lo-fi Blur, released in 1997. UK fans didn't really get it, but Americans bought the hell out of it. "Song 2," the album's lead single, became a '90s modern rock classic and was used on every soundtrack, advertisement, and television show known to man.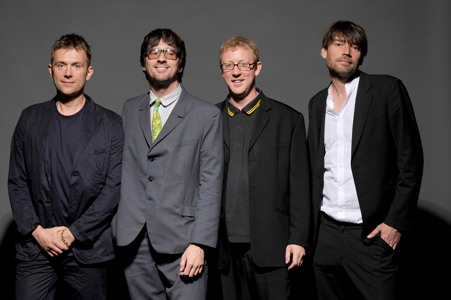 Where Are They Now?
Reunited with a new album in the works.
After the release of 1999's 13 and nine-month world tour, Blur went on hiatus. Graham recorded a handful of solo albums, Alex wrote some songs with Marianne Faithfull, and Damon created the Gorillaz.
After some time apart (and the departure of Graham), Blur released Think Tank in 2003. The album largely relied on instruments other than the guitar since Graham was apparently the only guy who could play guitar well.
Think Tank faired pretty well, but fans were antsy to find out when Graham would come back, as Blur felt incomplete without him.
In 2008, Graham reunited with his bandmates for two shows at Hyde Park. After a summer festival tour in 2009, the world began to wonder when new Blur material would surface.
But Why Blur?
You know that new Blur material you've been waiting for? Well, it's coming soon. And your favorite British boys will also headline a gig at Hyde Park (along with New Order and The Specials) to celebrate the closing of the 2012 Summer Olympics on August 12, 2012.
Here's their newest song, "Under the Westway." (Do your best to ignore the screaming girls.)
What Does Sam Think?
I believe I've made my opinion on Britpop pretty clear (again, see the Pulp entry). It's cool and everything, but it's not my favorite music movement of the '90s. Britpop is a little too formulaic (though you could argue this with grunge and pop-punk as well), and it sometimes feels like people only like it because it's "foreign." I will admit that '90s Britpop was slightly more interesting than the Britpop resurgence of the 2000s, though (looking at you, Coldplay).
But let's talk about Blur, shall we? Yes, their first three albums are great examples of pure Britpop goodness, but I'm gonna be that guy and profess my love for the self-titled album (yes, the one with "Song 2"). It's a little rougher, but it doesn't stray too far from the sound on Parklife. I love that Blur took a chance and tried to separate themselves from Oasis. The result was a refreshing lo-fi/Britpop hybrid album that made these guys into something more than pop icons.
Though Damon Albarn is the creative forced behind Blur (and his work with the Gorillaz is pretty fantastic as well), the shift in sound can easily be credited to Graham Coxon. If it wasn't for his interest in American alternative bands like Pavement, Blur would forever be known as "those little Oasis wannabes."
I think these guys are still capable of great things and I can't wait to see where they'll end up next.
Oh, and if you think "Song 2" is overrated, you're lying to yourself. (WOO-HOO!)
-- Sam Boyer, reported from the '90s