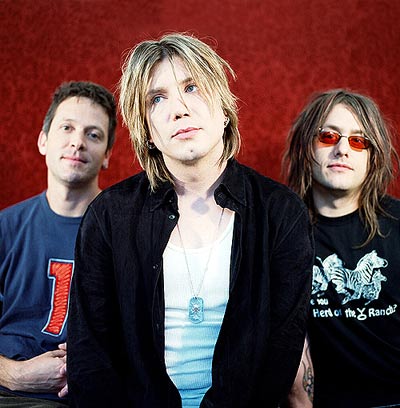 Sound Familiar?
"Name," "Iris," "Black Balloon"
Who Are They?
Top 40 giants responsible for one of the greatest ballads of the '90s.
In the beginning, there were two friends from Buffalo and a singer who was too shy to actually sing. The alternative trio settled on the name
Goo Goo Dolls
, taken from a toy ad in True Detective magazine. Since John Rzeznik couldn't find his voice, bassist Robby Takac took over lead vocals for the band's self-titled first album, released in 1987. It wasn't until the third album, 1990's
Hold Me Up
, that John finally found his courage.
Despite initially being labeled as
The Replacements
wannabes, the Goo Goo Dolls began to win audiences over with
Hold Me Up
. One album later, they achieved success with the critics and even made it to college radio and MTV's 120 Minutes.
Shortly after recording wrapped on 1995's A Boy Named Goo, drummer George Tutuska was kicked out of the band. Mike Malinin took his place just in time to enjoy the success of the album. "Name" cemented the band's commercial success and A Boy Named Goo went double platinum.
In 1998, John was approached to write a song for the heart-wrenching film City of Angels (it's an "ugly cry" kind of movie, trust me). John's contribution was the equally heart-wrenching tune "Iris." The song was a smash hit and propelled the Goo Goo Dolls to superstardom. (Fun fact: John was experiencing some serious writer's block when he was asked to write "Iris," and was actually considering leaving the band.)
"Iris" made it on to 1998's Dizzy Up the Girl, which produced four other Top 10 hits: "Slide," "Black Balloon," "Broadway," and "Dizzy." Because the Goo Goo Dolls had gained quite a few new fans with their shiny new commercial sound, they rarely played any of their older songs in concert. The mutual decision must have been something like, "So let's just forget those first three albums ever happened."
Where Are They Now?
Settling into Adult Top 40 radio with the rest of those radio-friendly '90s alternative bands (and still reaping the benefits of "Iris").
Once the "Iris" hysteria died down (okay, that's a lie; the hysteria never died down), the Goos released Gutterflower in 2002. With most of the songs inspired by John's divorce, Gutterflower was chock full of dark lyrical content (which usually makes for a fantastic album).
Following the release of
Gutterflower
, John wrote two songs for the 2002 Disney film,
Treasure Planet
.
"I'm Still Here"
and "Always Know Where You Are" were released as singles independently from the Goo Goo Dolls. (Sam-related fun fact: "I'm Still Here" was my favorite song for a good two years back in the day.)
The band celebrated its 20th anniversary in 2006 with the release of Let Love In, which gave birth to even more Top 10 singles. These guys actually broke an Adult Top 40 record with 12 Top 10 singles (Matchbox Twenty recently caught up with them and now both bands are tied with 13 singles).
(Unrelated fun "fact": Apparently April 13, 1996 and July 4, 2004 are both considered "Goo Goo Dolls Day" in Buffalo. I put fact in quotations because I couldn't find actual evidence of this. Pretty sure the Internet is lying to me.)
In 2008, John was inducted into the Songwriters Hall of Fame and the Goo Goo Dolls released their ninth studio album, Something for the Rest of Us, in 2010.
But Why Goo Goo Dolls?
The band is currently recording its tenth studio album, which we could possibly see by the end of this year or early next year.
What Does Sam Think?
As much as I enjoy Dizzy Up the Girl and Gutterflower, I'll admit that there's really nothing revolutionary about the Goo Goo Dolls. They're a very average band that produces great radio-friendly hits. I'm not going to try to build them up for you because you've probably already made up your mind about them.
Like most people my age, my first taste of the Goo Goo Dolls was "Iris." You don't have to like the band, but you have to admit that "Iris" is a pretty rad tune. (The John Rzeznik/
Avril Lavigne
version of it, however, isn't as good. And yes,
that actually happened
.)
But once that song got big, people forgot that the Goo Goo Dolls had four other albums. A Boy Named Goo is fairly underrated. The shift between that album and Dizzy Up the Girl is almost staggering. The band didn't become 100% commercialized until 1998, and the earlier albums definitely represent pre-"Iris" Goos well. Hold Me Up and Superstar Car Wash are more college rock-oriented than you'd think. John and company didn't get catchy until "Name."
Post-"Iris" Goo Goo Dolls (isn't it convenient to have two versions of the same band separated by one hit song?) are pretty safe, as are most other "adult alternative" bands (see
Matchbox Twenty
,
Counting Crows
,
Gin Blossoms
, etc.). That doesn't make them a terrible band, though. If anything, it just makes them a little dull at times.
Bottom line: the Goo Goo Dolls are a great band for your dad to listen to. Every once in a while, they'll produce a fantastic single ("Iris," "Name," "Here Is Gone"), but most of their albums sound way too similar. But hey, at least they're consistent.
Okay, consistency isn't really a good thing in the music industry. But you'll always have a handful of acoustic ballads from these guys that get you all misty-eyed. I know you have those nights where you just want to eat a pint of ice cream and sing, "And I don't want the world to see me / 'Cause I don't think that they'd understand" in between sobs. It's okay, I don't judge.
-- Sam Boyer, reporting from the '90s.