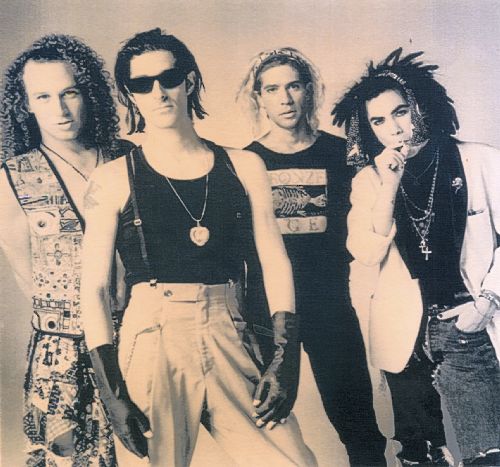 Sound Familiar?
"Jane Says," "Mountain Song," "Been Caught Stealing"
Who Are They?
An alternative rock band so important that its initial farewell tour turned into one of the biggest music festivals ever (hello,
Lollapalooza
).
In the mid-1980s, Perry Farrell was trying (unsuccessfully) to salvage the remains of his pet project, Psi Com. On his search for a new bass player, Perry found Eric Avery and the two bonded over their mutual love for
Joy Division
and
The Velvet Underground
. With Eric by his side, Perry changed the name of the band to
Jane's Addiction
after his housemate Jane Bainter (who would later be the inspiration for the song "Jane Says").
After going through three guitarists and two drummers, Jane's Addiction settled on a permanent lineup of Perry Farrell, Dave Navarro, Stephen Perkins and Eric Avery, and released its self-titled debut in 1987 (recorded live at the Roxy Theatre in Los Angeles).
One year later, Jane's Addiction actually went into the studio to record its real debut, Nothing's Shocking (since Jane's Addiction was a live album, it's technically not the band's first album). "Mountain Song," the first single, featured a slightly controversial music video that MTV refused to play because it contained a scene of full frontal nudity. Without exposure on MTV and modern rock radio, Nothing's Shocking was initially a commercial failure.
Despite the disappointing sales, Perry and company ended up touring with
Iggy Pop
and
The Ramones
, and eventually headlined clubs and theaters.
But the greatest thing (and also the worst thing) to happen to the band was 1990's Ritual de lo Habitual. From having no recollection of recording the album (so says Dave Navarro, who was battling a crippling addiction to heroin at the time) to beating the shit out of each other on stage, Jane's Addiction's most successful album marked the beginning of the end (well, the first time, at least).
The band's 1991 tour turned into a farewell tour, as everyone realized that they couldn't stand each other anymore. According to Perry, "That thirteen-month tour behind Ritual was half the reason we wound up unable to stand one another. The other half is that I am an intolerable narcissist who can't get along with anyone" (from Brendan Mullen's Whores: An Oral Biography of Perry Farrell and Jane's Addiction).
Meanwhile, singles "Been Caught Stealing" and "Stop!" became smash hits thanks to heavy airplay on MTV.
By late 1991, Jane's Addiction had split into two camps: Dave and Eric vs. Perry and Stephen. Eventually, Dave and Eric decided to quit and the band played its last shows in Australia and Hawaii.
Following the demise of Jane's Addiction, Perry and Stephen recruited guitarist Peter DiStefano and bassist Martyn LeNoble to form
Porno For Pyros
in 1992. (Fun fact: Perry named the band after seeing a fireworks ad in a porn magazine.)
Porno For Pyros' self-titled debut was released in 1993 and the video for the first single, "Pets," was put into heavy rotation on MTV. The band toured extensively and even made an appearance at Woodstock '94. (This is one of my favorite Woodstock '94 sets, so here's a little
taste of it
for you.)
The follow-up album, 1996's
Good God's Urge
, reunited Perry and Stephen with Mr. Navarro, and even featured
Red Hot Chili Peppers
bass pro Flea.
A year later, Jane's Addiction reunited (minus Eric Avery) and embarked on a fairly successful tour.
Where Are They Now?
Still releasing (somewhat disappointing) new material.
In 2001, Jane's Addiction embarked on the strange spectacle that was the Jubilee Tour (also known as the "Sexual Psycho Circus"). Porno For Pyros bassist Martyn LeNoble filled in for Eric Avery, who still refused to rejoin the band.
Following the tour, the band finally decided to record a follow-up to Ritual de lo Habitual. Chris Chaney replaced Martyn on bass and Jane's Addiction went back to the studio for the first time in 21 years. The result was 2003's Strays.
Another tour followed, but this one was cut short because, let's face it, these guys can't get along for an extended period of time. Jane's Addiction broke up yet again at the end of 2003.
Fast-forward to 2008 when the band reunited yet again at the first ever NME Awards, this time with Eric Avery on board. After that performance, Trent Reznor announced that Jane's Addiction would accompany Nine Inch Nails on their summer 2009 tour.
After playing the Soundwave Festival in Australia in 2010, Eric left the band for good,
stating
, "That's it. With equal parts regret and relief, the Jane's Addiction experiment is at an end."
Next in the rotating door of bass players was
Guns N' Roses
/
Velvet Revolver
bassist Duff McKagan, who began to work with the band on 2011's
The Great Escape Artist
(which is probably one of the most disappointing albums I've ever heard, as evidenced by my fairly
scathing review
).
But of course, Duff left after playing only a handful of live shows (because bassists who join Jane's Addiction are apparently cursed).
TV on the Radio
's Dave Sitek and
Strays
-era bassist Chris Chaney replaced him.
But Why Jane's Addiction?
Perry has discussed the possibility of releasing a follow-up to The Great Escape Artist, and there may also be a possible Porno For Pyros reunion!
What Does Sam Think?
I should have written about Jane's Addiction a long time ago, but I'm more excited about a Porno For Pyros reunion than a new Jane's Addiction album. Sorry I'm not sorry.
But I'm not saying that I don't like Jane's Addiction. I just think this band's discography can be split right down the middle in terms of quality.
Nothing's Shocking and Ritual de lo Habitual are stellar records. They kind of set the standards for alternative rock in the '90s. That's what really interesting about this band. Jane's Addiction technically only released one album in the '90s, but ended up becoming one of the bands that defined the entire decade. Most of that has to do with creating Lollapalooza, but looking at the band's musical contributions, I've got to give credit where it's due.
It's really hard to pinpoint Jane's Addiction's sound without using the word "alternative." Perry and the gang draw influences from punk rock and heavy metal, but there are also some moments of folk rock (
"Jane Says"
), psychedelic rock (
"Three Days"
) and a touch of Eastern European gypsy music (
"Of Course"
).
Porno For Pyros expanded on all those extra elements, which made them infinitely more interesting, in my opinion. (Side note: I really urge you to listen to PFP's self-titled debut. It's one of my favorite albums of the '90s.)
But the later Jane's Addiction albums (Strays and The Great Escape Artist) don't capture the free-form feel of those first two albums. It's so frustrating because I know this band is creative, but this new shit just doesn't reflect that.
Perhaps a Porno For Pyros reunion can reignite that creative spirit? What do you say, Mr. Farrell?
-- Sam Boyer, reporting from the '90s.