Sound Familiar?
"My Own Prison," "Higher," "With Arms Wide Open"
Who Are They?
Everyone's favorite butt rock band to hate (next to
Nickelback
, of course).
Scott Stapp and Mark Tremonti met in high school in Tallahassee and formed a band called Naked Toddler in 1993. Once rhythm guitarist Brian Marshall and drummer Scott Phillips joined the group, the four-some changed its name to
Creed
.
The band had an awful time trying to book shows early on, so the boys ended up playing in gay bars and T.G.I. Friday's. But once Creed played a successful show in a Tallahassee bar, the bar's manager (who was conveniently head of his own promotions company) hooked them up with a producer named John Kurzweg.
Creed's first album, 1997's My Own Prison, was initially self-released and sold about 6,000 copies in Florida. The album began circulating around the music industry and eventually fell into the hands of Wind-Up Records rep Diana Meltzer.
My Own Prison was remixed and re-released by Wind-Up Records later that year. The album spawned four singles ("My Own Prison," "Torn," "What's This Life For?" and "One"), all of which reached number one on the Billboard Hot Mainstream Rock Tracks chart. Believe it or not, Creed was the first band to achieve this feat with a debut album.
With the money made from My Own Prison, Creed released the follow-up, Human Clay, in 1999. Though not as critically acclaimed as its predecessor, Human Clay did have two huge things going for it: "Higher" and "With Arms Wide Open."
Chances are, when you think of Creed, you immediately hear "With Arms Wide Open" and have visions of Scott Stapp spreading his arms into the wind like a butt rock messiah. This is arguably Creed's biggest hit (along with "Higher") and I'm still not sure why (but we'll get into my secret Creed feelings later on).
(Fun fact:
Human Clay
is the #8 best-selling album of the past 20 years.
Metallica
's
The Black Album
is #1.)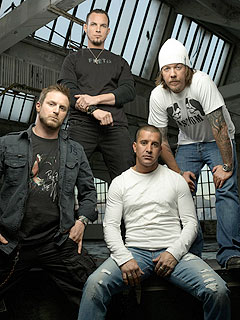 Where Are They Now?
Reunited and possibly working on a fifth studio album (though that may currently be on hold).
In 2000, right when Creed was on top of the world, bassist Brian Marshall decided to badmouth
Pearl Jam
. Big mistake, Brian. He claimed that Scott was a better songwriter than Eddie Vedder and criticized the band's music as a whole for "having songs without hooks." Scott made it clear that he didn't share Brian's views and Brian eventually ditched the group.
For Creed's third studio album, 2001's Weathered, guitarist Mark Tremonti pulled double duty and played both lead guitar and bass. The album was a huge success, debuting at #1 on the Billboard Top 200 and staying there for eight solid weeks (a record the band shares with The Beatles).
The tour to promote Weathered, on the other hand, was not as successful. It was delayed in 2002 when Scott was injured in a car accident, which resulted in his addiction to painkillers (along with a steadily growing alcohol problem).
At a tour stop in Illinois in December 2002, Scott was apparently "so intoxicated and/or medicated that he was unable to sing the lyrics of a single Creed song." Four concertgoers filed a lawsuit against the band, but the case was later dismissed (though Scott did ultimately admit that he was, in fact, intoxicated during the show).
Tensions mounted between Scott and the rest of the band, resulting in Creed's dissolution in 2004. Scott immediately went on to a solo career and the remaining members joined forces with Myles Kennedy to form Alter Bridge.
After Mark swore up and down that Creed would never reunite, the band got back together for a new tour in 2009. A new album, Full Circle, was released later that year, along with a record-breaking concert film, Creed Live.
(Fun fact: Creed Live broke the world record for the most cameras used at a live music event, which was a total of 239.)
After a fairly successful tour, Creed went back to the studio to begin work on a fifth studio album, but further details on new material have yet to surface. And now that Alter Bridge is back up and running, it looks like Creed is back on hiatus.
But Why Creed?
Because I've been waiting to write this entry for a long time. Also, I still think Creed has one album left in them.
What Does Sam Think?
Okay, I think it's about time I revealed my secret to you all. I, Sam Boyer, '90s queen and grunge enthusiast, used to be the biggest Creed fan on the face of the earth. And not only did I worship this band, but I was also a card-carrying fan club member. (I wish I still had the card to prove it, but alas, it's gone.)
So if you know me, this really isn't that big of a secret. For a solid two-year period, I was hopelessly obsessed with this band. I still remember the lyrics to every song from the first three Creed albums. And yes, I still like to listen to them.
Perhaps my thought process is clouded by nostalgia, but I still don't understand why so many people vehemently hate Creed. I can see why people dislike them—not everyone digs spiritual power-ballads with heavy Christian undertones. But why do people loathe them beyond reason?
Creed's mainstream success obviously doesn't reflect the group's reputation as one of the most hated bands ever. Scott Stapp and company sold millions of albums and even broken records. Human Clay broke the Top 10 Best-Selling Albums of the Past 20 Years. So do millions of people (including myself) just have bad taste in music?
I'm not going to argue that Creed is the greatest band of all time—they're just some guys from Tallahassee who started a post-grunge band and played some rad music that really resonated with people. "With Arms Wide Open" isn't the song of a generation (and it's far from the best Creed song anyway). Human Clay isn't the best album of all time. But Creed is a decent band.
I don't expect you to suddenly become a Creed fan overnight, but if you've never listened to the band's music outside of the hits, consider giving it a try. You won't die, I promise. If anything, give My Own Prison a listen. Compared to Human Clay and Weathered (we're just going to ignore Full Circle because that album was awful), My Own Prison is incredibly dark. It's definitely not riddled with soaring ballads.
Now that I'm not an eleven-year-old Creed fangirl, I can look back at my obsession objectively. How did I get into this band in the first place? What made a semi-Christian rock band appealing to me? I don't consider myself religious at all, but I enjoy the storytelling in Creed's songs. There are some great lyrics that still resonate with me, and even though the instrumentation is your typical testosterone-drenched post-grunge riffing (most of the time), it's still catchy.
I guess the moral of the story is, if you happen to genuinely enjoy a band most people seem to hate, embrace it. Don't call it a guilty pleasure if you don't feel guilty about it. And if you want me to serenade you with Creed songs some night, buy me drinks and watch the magic (and the messiah arms) happen.
-- Sam Boyer, reporting from the '90s.