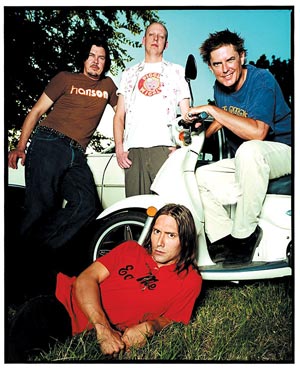 Sound Familiar?
"Pepper," "Who Was In My Room Last Night?"
Who Are They?
One huge, chaotic, darkly comic drug trip of a band. (Side note: this entry is going to be filled with ridiculous fun facts because this band is just too weird, but in a good way.)
Like
Bad Religion
,
Butthole Surfers
got their start in the late '70s/early '80s in the hardcore punk scene. (Yes, believe it or not, there was a hardcore punk scene in San Antonio, Texas.)
Oddballs Gibby Haynes and Paul Leary met in the '70s at Trinity University in San Antonio and bonded over their shared taste in non-mainstream music. Gibby landed a job at an accounting firm, while Paul stayed in college to work on his degree.
(Fun fact: Gibby and Paul published a magazine in 1981 called Strange V.D., which was basically a collection of abnormal medical disorder photos, complete with hilariously fictitious explanations for each one.)
After playing a few shows in San Antonio with the sibling rhythm section of Quinn and Scott Mathews, the band (not known as Butthole Surfers at this point) bought a van and headed to California. During a concert in San Francisco,
Dead Kennedys
frontman Jello Biafra became a fan of the band and invited them to open for his band.
(Fun fact: The band didn't settle on the name Butthole Surfers until its first paid gig. Prior to that, they performed under various aliases, including the Vodka Family Winstons, Ashtray Babyheads, Ed Asner Is Gay and The Inalienable Right To Eat Fred Astaire's Asshole.)
Jello soon offered them a chance to record an EP and release it through his record label, Alternative Tentacles. The Mathews brothers ditched the band following an altercation between Scott and Gibby, so bassist Bill Jolly and drummer King Coffey filled in.
The resulting EP, 1983's Butthole Surfers (also known as Brown Reason to Live and Pee Pee the Sailor), was just a preview of the band's albums to come.
(Fun fact: Butthole Surfers' first EP became one of Kurt Cobain's favorite albums. He actually met Courtney Love at a Butthole Surfers/
L7
concert in 1991.)
After several dozen lineup changes (I'm not even going to bother listing all of them because there are just too many) and two fantastically strange albums (1984's Psychic…Powerless…Another Man's Sac and 1986's Rembrandt Pussyhorse) the legend of Butthole Surfers began to grow. Their chaotic live shows attracted a plethora of weirdos and punk rockers alike, featuring everything from strobe lights and smoke machines to naked dancers and cross-dressing.
(Fun fact: At the end of the band's first tour, the boys settled in a small town in Georgia, where they admitted to stalking members of
R.E.M.
They would leave a van parked in front of Michael Stipe's house that had the message "Michael Stipe/Despite the Hype/I'd Love to Suck/Your Big Long Pipe" painted on the side.)
The Surfers returned to Texas in 1986 to record a follow-up to Rembrandt Pussyhorse, which resulted in their heaviest record to date, 1987's Locust Abortion Technician. (This album is sometimes considered to be an early precursor of grunge, which makes sense since Kurt Cobain was such a huge Butthole Surfers fan.)
Hairway to Steven
, released in 1988, was a delicate mix of the band's experimental roots and the more accessible sound that would later give the Surfers mainstream success. After the release of
piouhgd
in 1991, Butthole Surfers shocked the world and signed to Capitol Records. They teamed up with bass legend John Paul Jones (of
Led Zeppelin
, if you have to ask) and released the much more mainstream
Independent Worm Saloon
in 1993.
The album gave them their first rock radio hit, "Who Was In My Room Last Night?" (complete with a
bizarrely awesome
music video).
After losing yet another band member, Gibby and Paul pursued side projects. Gibby's side project, P, featured the musical talents of Johnny Depp, Bill Carter, Sal Jenco and Flea.
(Fun fact: P was the band playing at the Viper Room in Los Angeles the night River Phoenix died of a drug overdose.)
In 1996, the Surfers released their most successful album, Electriclarryland. The lead single, "Pepper," became a Top 40 hit and propelled the album to number 31 on the Billboard 200 chart.
Despite the surge of popularity (and money), Butthole Surfers didn't get along with their record label. The planned 1998 project After the Astronaut was scrapped and the band ditched its manager.
Where Are They Now?
Touring sporadically, but not in support of any new material.
The Surfers resolved their little tiff with Capitol Records and released Weird Revolution in 2001. The album included rerecorded After the Astronaut outtakes and another successful single, "The Shame of Life."
Since the release of Weird Revolution, Butthole Surfers have toured intermittently, even making an appearance at the 2008 All Tomorrow's Parties festival.
(Fun fact: All Tomorrow's Parties founder and organizer Barry Hogan reportedly told The Village Voice that after watching Butthole Surfers' performance, they would never play the festival again.)
The band's last tour was in 2011 and only included 12 stops. Is this the end of Butthole Surfers?
But Why Butthole Surfers?
While it's true that these guys haven't done much in the last couple of years, there's still a possibility that new material may turn up. Paul and King Coffey recently stated that the Surfers will tour again if they can pull off another album.
What Does Sam Think?
I always pair Butthole Surfers with
Primus
, and I think that's because they're both really strange bands. But if we're really having a strange contest here, the Surfers out-weird Primus every time.
First of all, if the only Butthole Surfers song you know is "Pepper," you're in for a treat if you choose to listen to the rest of their discography. And by "treat," I mean a bad acid trip.
If you're not a fan of psychedelic, glitchy sound splices, steer clear of the band's first few albums. Locust Abortion Technician makes a little more sense (and sounds a bit closer to metal than anything), but a first-time listener should always start with Electriclarryland.
So what makes this band so weird (and why is that a good thing)? Well, the Surfers incorporate a lot of different elements into their music. They experiment with psychedelia, noise rock, punk rock and a touch of electronica, as well as a healthy dose of sound manipulation and tape editing. There are noises on their albums that you will never hear anywhere else.
This is some really underground stuff, guys. I understand that it's not everyone's cup of tea, but you have to respect the experimentation. There really aren't any other bands that sound like Butthole Surfers at the moment. I mean, some of their songs sound like pure chaos, but others sound like fairly accessible (though slightly off-kilter) alternative tracks.
It honestly surprises me that this band reached the mainstream. "Pepper" may be a pretty tame track by Surfers standards, but it's still a little weird to hear on the radio. With lyrics like "Flipper died a natural death, he caught a nasty virus / And then there was the ever-present football player rapist," how did this song become so popular? But I guess that was after
Nirvana
had paved the way for alternative bands to get a little weirder on the radio.
But if you do dig all the crazy shit this band puts out, hit me up and we'll get weird, Locust Abortion Technician style.
-- Sam Boyer, reporting from the '90s.