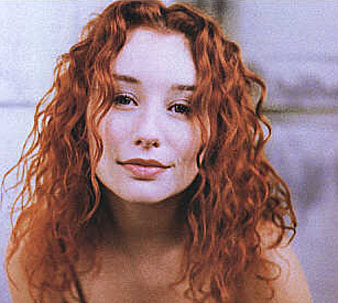 Sound Familiar?
"Crucify," "Cornflake Girl," "God"
Who Is She?
A classically-trained piano prodigy with some of the most personal songs you'll ever hear.
Myra Ellen Amos started playing the piano at age two, and by the time she turned five, she had a hefty scholarship to the Peabody Conservatory of Music in Maryland. Yes, age five. I couldn't even spell Christmas at age five.
As she grew older, Myra got really into rock music, much to her family's disdain. As the age of 13, she began playing in gay bars and piano bars (with her father as a chaperone, of course). Myra didn't get noticed on a local level until she won a teen talent contest in 1977 with a song called "More Than Just a Friend." She won another contest with a song called "Baltimore," which became her first single.
(Fun fact: Myra Amos performed under her middle name, Ellen, until a boyfriend told her the name Tori suited her better.)
At 21,
Tori Amos
moved to Los Angeles to pursue her music career. In 1986, she formed a group called Y Kant Tori Read (a reference to her days at the Peabody Conservatory, where she was able to play songs by ear, but couldn't sight read). The group released a self-titled album in 1988, but it was a commercial failure. Y Kant Tori Read disbanded shortly after the album's release.
Even though her band didn't make it, Tori still had a six-record contract with Atlantic Records. The label bigwigs wanted a new album by 1990, so Tori gave them Little Earthquakes in 1992. The album touched on the more personal aspects of Tori's life, including her religious upbringing, sexual awakening and sexual assault. Little Earthquakes became her commercial breakthrough and paved the way for her next two albums (1994's Under the Pink and 1996's Boys for Pele) to climb the charts.
Tori took a detour into electronic territory with her last two '90s releases, From the Choirgirl Hotel and To Venus and Back. Both albums deal with womanhood, from marriage to miscarriages (Tori is very candid in her music, choosing not to sugarcoat any of her experiences).
Where Is She Now?
Still playing deeply personal piano ballads and just being a badass babe in general.
Tori became a mother in 2000, which inspired her to release a cover album in 2001 called Strange Little Girls. She recorded covers of songs written by men about women, choosing to reverse the gender roles to show a woman's perspective. The album included covers of Eminem's "'97 Bonnie and Clyde," Neil Young's "Heart of Gold" and Slayer's "Raining Blood." If that's not an eclectic mix of songs, I don't know what is.
After fulfilling her contract with Atlantic, Tori moved to Epic Records and released Scarlet's Walk in 2002. Scarlet's Walk is a concept album (or "sonic novel") that explores Tori's alter ego, Scarlet.
(Fun Sam fact: "A Sorta Fairytale" is one of my favorite songs, and the
music video
is one of the most amazingly bizarre things I've ever seen. Tori Amos + Adrien Brody + feet = romance.)
After a couple more concept albums, Tori left Epic Records and moved to Universal Republic to release Abnormally Attracted to Sin in 2009. A few classically-influenced albums followed (including Night of Hunters, which paid tribute to such composers as Bach, Chopin and Debussy), and soon after the release of her most recent album (2012's Gold Dust), Tori formed her own label, Transmission Galactic.
But Why Tori Amos?
Her new album, Unrepentant Geraldines, is set to be released in spring of this year! According to Tori, this album will be a welcome return to her earlier, more personal work.
What Does Sam Think?
If you think I'm in love with Tori Amos…well, you're right. Perhaps my intense admiration for
Fiona Apple
made it a little obvious, as both ladies rock it out on the piano. The difference between Fiona and Tori (and yes, there is a difference) is the delivery.
Fiona definitely has more angst, which is apparent in songs like "Sleep to Dream" and "Limp." She isn't afraid to be aggressive and a little intimidating. Tori, on the other hand, takes a more subtle approach. She does have some anger in her lyrics (see one of my favorite lines, "So you can make me come / That doesn't make you Jesus" from "Precious Things"), but she has a much softer delivery. Her voice is incredibly emotive, but she kind of casually delivers biting lines like the ones I just mentioned.
I think Tori's at her best when she keeps things personal. If you're not familiar with her more recent stuff, that's okay. I mean, unless you really like classical music, I would avoid it. Of course it sounds beautiful in a classic way, but it's kind of a hollow beauty. Like I said, Tori is great at emoting in her music. And while she's a fantastic pianist, I'm not really into hearing her play a sonata with little to no singing. I'm glad to hear that she's going back to her original style, though.
One of my favorite things about Tori is that she continuously takes risks. She's done everything from intricate concept albums (Scarlet's Walk) to ambitious cover songs (Strange Little Girls) to classical compositions (Night of Hunters). Not all of them work, but at least she keeps things fresh. I do think it's time that she returns to her confessional style of music, though. And of course I would like to see some more experimental music videos.
-- Sam Boyer, reporting from the '90s.